Specially developed powder pigment mixtures for maximum color stability and weather fastness.
The coloring of PVC gutters largely has its origins in the 1960s. Accordingly, we have been working on the development of pigmentations for PVC roof guttering for many years. Today, thanks to our collaboration with stabilizer manufacturers, we are the market leader for the coloring of roof guttering systems.
As roof guttering is exposed to a large part of the direct weather conditions and solar radiation, the application concentration and weather fastness always take center stage in the conceptualization of the colorant. In this respect, we are generally talking about pure pigment mixtures which are predominantly available in the shades of brown, red, brick red, green, black or white.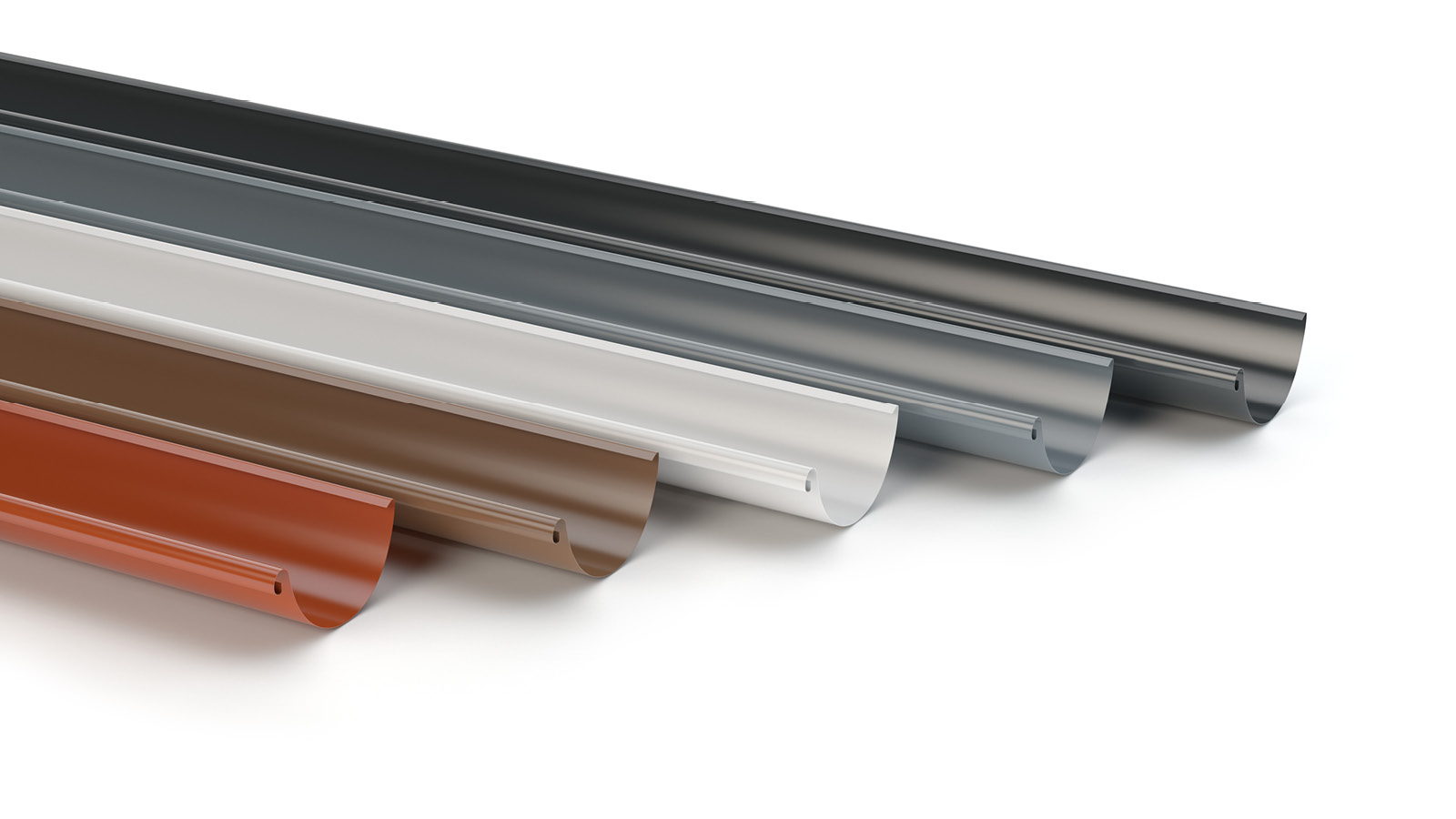 Powder pigment mixtures: often the most economical form of coloring for roof guttering.
The formulation and application concentration have a major impact on the costs. To achieve good results, in such cases, we generally use 4-6% pure powder pigment mixtures. This is a reliable guideline value which we succeeded in determining in numerous experiments for the optimal dosage. Here, our customers benefit from the long-term development work which we constantly advance at the project level and together with suppliers of PVC stabilizers. Additionally, most of our customers also have the necessary technical facilities to be able to dose the pigment mixtures precisely in the heating mixer.
s-Packs for dust-free handling.
Cleanliness and the prevention of dust plays a particularly important role for many of our roof guttering manufacturers. We have therefore developed a solution with which powder pigment mixtures can be stored, transported and processed on an accurate and dust-free basis: the s-Packs. These precisely pre-dosed and hermetically sealed bags are added directly to the heating mixer, where they dissolve without residue and release the required powder pigment mixture. It is naturally the case that the individual s-Packs can also be filled and dosed individually according to your requirements.

Optimized formulations for injection-molded parts.
Injection moldings often take place under high pressures and temperatures. In this case, formulations must be used which are specifically configured for these extreme processing conditions. In injection molding, the manufacturer occasionally selects other basic PVC formulations which also differ in color from the extrusion mixtures. Here, it is the task of our specialists to develop the suitable pigmentations for both processes and to carry out the necessary color adjustments.
Perfect shape retention thanks to IR-activated pigment mixtures.
Thanks to our IR-reflective TSR plus technology, we are able to prevent problems with the shape retention in the gutter system when configuring the colorant. A masterbatch, with a specially coordinated support material, is also capable of significantly increasing the Vicat softening time of a PVC mixture, thereby preventing warping in the roof guttering system.
Your personal contact: Katharina Leonhardt
Do you have any further questions about the coloring of PVC roof guttering, or would you like to start a project with us? We're happy to help.
Phone +49 9232 9945-60
Mobil +49 171 2902590
E-mail: katharina.leonhardt@farbenwerke.de